Spring in Kazakhstan is beautiful! Two days ago the weather was fine, trees were almost green and the singing of birds filled the parks in our city. We even had the English lesson outside enjoying the sun. Unfortunately, today in the morning it was snowing and the wind was knocking us down.
To cheer ourselves up, let us tell you few words about New Year in Kazakhstan!
Unlike most European countries where Christmas is celebrated in a bigger way than New Year, here, in Kazakhstan, we love meeting New Year night, December 31. The celebration lasts till the morning of January 1. This holiday is associated with childhood, magic and the dreams that come true. New Year is a family holiday for us. Everybody visits their relatives, sing songs, watch traditional movies and have a long and wonderful dinner! 🙂

Traditional movie is "Ironya sudbi…" ("The irony of fate…") It is a love story about an accidental meeting of two people who lived in two different cities, were currently in relations and about to get married. But on New Year's Eve they met by a stroke of luck, and fell in love with each other. Maybe it was New Year's miracle and they were destined to be together?
This movie is broadcasted each year since 1975, and the speeches of all characters have been learnt by heart, but we still enjoy watching it! Some episodes from the movie:

Children love New Year most, because they get presents and can stay awake all night. The song about a little fir tree, which felt cold in a forest and was taken to a house, is very popular among children:
Another song is about a fir tree that "came" to holiday to kids:
As you see, we love fir trees 😀 Usually, we decorate the tree about ten days before the holiday, because it creates the right atmosphere and mood. The tree in every house is decorated with colourful balls, bright lights, different statuettes of animals, gold and silver tinsel and on the top there is a star. Under the fir tree children find the presents left by Ded Moroz.
There are two main characters – Ded Moroz and his granddaughter Snegurochka (the Snow Maiden). Ded Moroz is the Slavic version of the Santa Claus. He is portrayed as an old man in a color – blue, red or white coat, with a long white beard and a staff in his hand, in felt boots. Rides on the top three horses. Often comes accompanied by the granddaughter of the Snow Maiden.
Someone waits for presents, others want to meet relatives, be in the family circle but everyone enjoys the dinner. If you would like to celebrate New Year like a real Kazakhstani, you MUST make Russian salad or Olivye 😀 Another "must have" is mandarins. The smell of this fruit is associated with New Year. People break out the bottle of champagne, a clock strikes midnight – 00:00 – wishes are made, and it's New Year!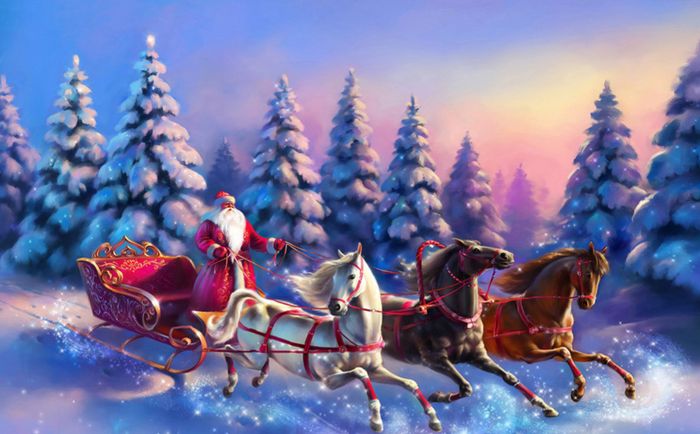 Write in comments about your celebration of New Year.
Feel free to ask questions!
---
Post by Nadia K., Lisa T., Christine M. and Farisa S.
Poem by Sasha R. and Ruslan B.